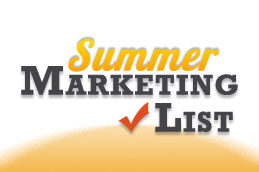 Do you view the summer as a time to take a well-earned rest, or is it an unwelcome disruption to the momentum your marketing efforts have created so far this year?
If you would prefer to keep your business moving forward, then here are five key things you can do to make progress while your competitors spend the summer drifting backwards.
1.     Assess Your Marketing Performance
With marketing activity planted firmly on the here and now in the current climate, it is often hard to fully review your marketing effectiveness based on past performance. As every good marketer knows, it's not so much about getting things right all the time, but understanding where you went wrong  – and then making improvements or identifying alternative approaches.
Consider an external assessment service to review your marketing effectiveness and transform your marketing ROI.
2.     Clean Your Marketing Database
The dreaded list clean project!  Despite advancements in closed loop marketing automation, CRM and e-marketing systems, the fact remains that with increasing employee and client turnover rates, maintaining clean customer and prospect contact data is still at best an uphill struggle and certainly a thankless task!
Outsource your marketing list of customer contacts to a specialist marketing agency that can validate your contacts and emails and transform your email marketing KPIs.
3.     Conduct An Online Customer Satisfaction Survey
Always on the to do list, an online customer satisfaction survey is the ideal opportunity to develop more personal relationships with your customers.  It helps you to gain direct customer insight and develop a deep understanding of the demands of your customers and their pain points.  It can also reveal sales opportunities for your business.
Take the pain away from administering an online survey by engaging a marketing partner to manage the project, provide impartial and objective reports and conclusions.
 4.     Refresh Your Customer Case Study Portfolio
Customer case studies are always a key sales enablement asset for any B2B organisation. Take the time to review your collateral to see whether it is up-to-date and fully represents your current business priorities. Consider updating existing customer case studies in a high impact format on branded PDFs and ask your key customer references to participate in a video case study.
Get the job done more quickly with a marketing partner that has a proven track record in delivering customer case studies that sell your story.
5.     Develop Your Digital Marketing Strategy
With digital marketing in a constant state of flux, developing an effective digital marketing strategy can seem like a bit of a black art.
If you are not using a fully integrated digital marketing platform, consider running a proof of concept pilot over the summer period to test drive its capabilities to assess your online effectiveness and help build your own business case.
Work with a marketing partner that can provide a low cost, low risk proof of concept digital marketing platform with supporting services to benefit from immediate results.
Contact Us Today
to discuss ways to accelerate your marketing effectiveness this summer.